Can you believe it? There's an actual beach in the mountains. Our cabin overlooked the South Toe River and if you followed the secluded road we stayed on, you will eventually find "the beach". That's right, the locals call a small piece of the river the beach. Those who live on the road have chairs set up around a bond fire for neighboorhood parties and you can walk on the rocks along the river bank. In the summer you can also swim in the river and jump off the big rocks into the water. I was so excited to be able to walk along a "beach" everyday!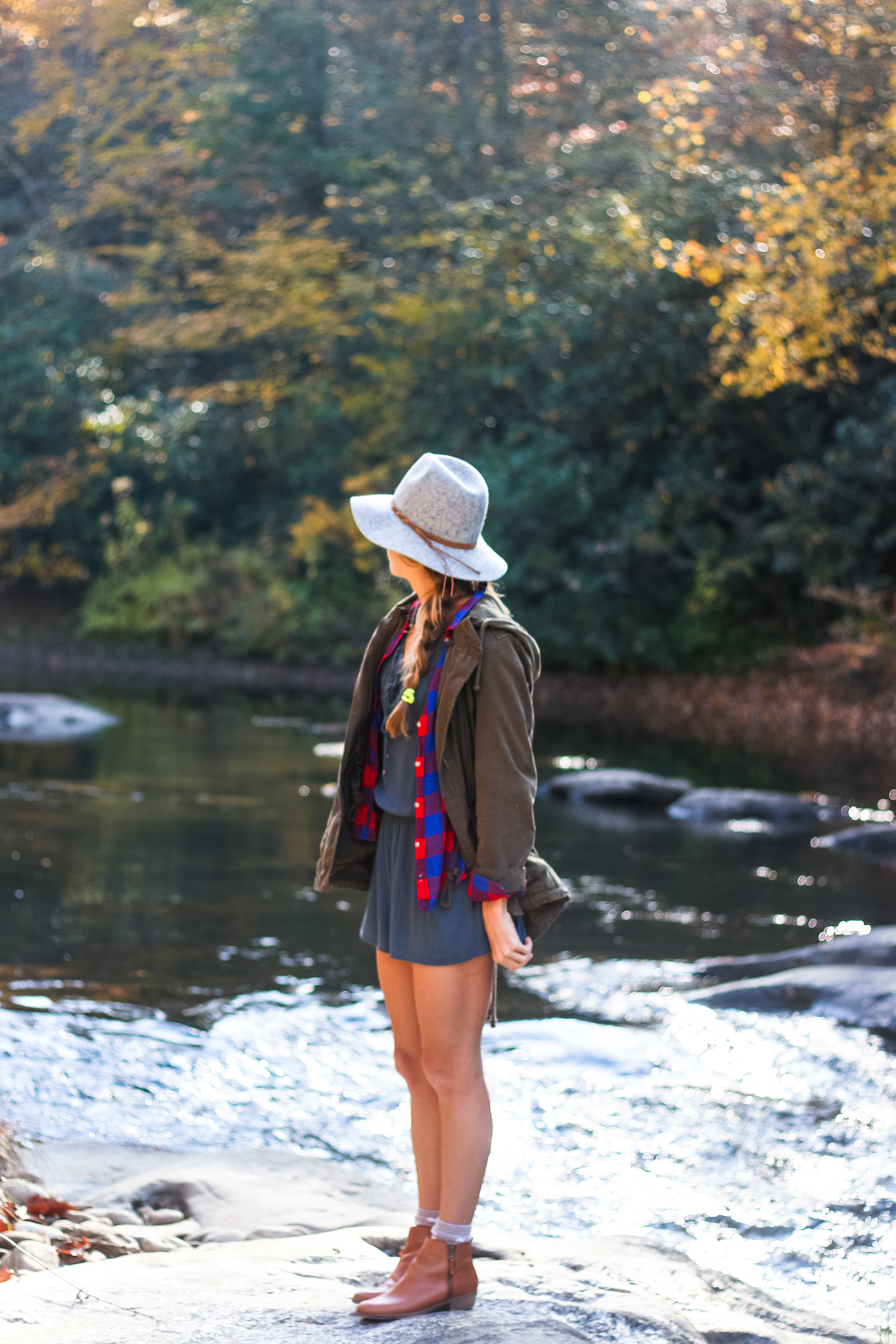 Romper: American Eagle
Jacket: Old Navy (similar from Gap or Marine Layer)

Shirt: American Eagle (similar from Old Navy)
Socks: Target
Boots: Ralph Lauren (similar FRYE boots)
Hat: Target
Walking on the path to the beach!
Walking along the pebble rocks are not joke. To get down to the beach area you have a short climb downhill. These boots would not be my shoe of choice to walk on wobbly ground or hike in but we all know Nike sneakers would not match well with this romper. Sometimes it's okay to suffer for fashion. I wish I owned a pair of Hunter Rain Boots to have brought on the trip, they would have been so useful!
In case you didn't know I have an obsession with pineapples! While we were at the Ingles grocery store I bought a pineapple just so we could have one with us in the cabin. My sister totally thought I brought it with me from back home haha!
The people who stayed at our cabin before us had stacked the pebble rocks so we added to their piles!
This was our first full day being at the cabin and it was also the warmest day. I wore this American Eagle romper to go apple picking. I bought it a few weeks before our trip to add to my fall wardrobe. I'm actually really happy I was able to wear shorts at least one day because the rest of our stay the temps were in the 30's and 40's. The morning was chilly enough I could wear a jacket but by mid afternoon when we went apple picking it warmed up to 80 degrees. It was also the only day we got sweaty and resulted in all of the layers being stripped off. That's one part I love about the mountains though. You can layer in the mornings and night and enjoy sunshine during the day!
Save
Save
Save
Save
Save